Our Purpose
As the UK's leading fintech and support services business, we are the connecting force within retail financial services, inspiring better outcomes that benefit everyone from product providers to intermediaries to consumers.
By simplifying and supporting the complex financial services world through technology, people and insights, we create outcomes that leave everyone better off.
It's our defining purpose as a business, shared across our people, our culture and our family of brands.
By continuously developing our services, our technology and our team, we deliver the solutions the market needs to evolve, shaping a better industry and a better financial future for all.
Our Strategy
We empower product providers, intermediaries and consumers by giving them the tools, knowledge and insights to make better informed financial decisions.
Our Strategic Framework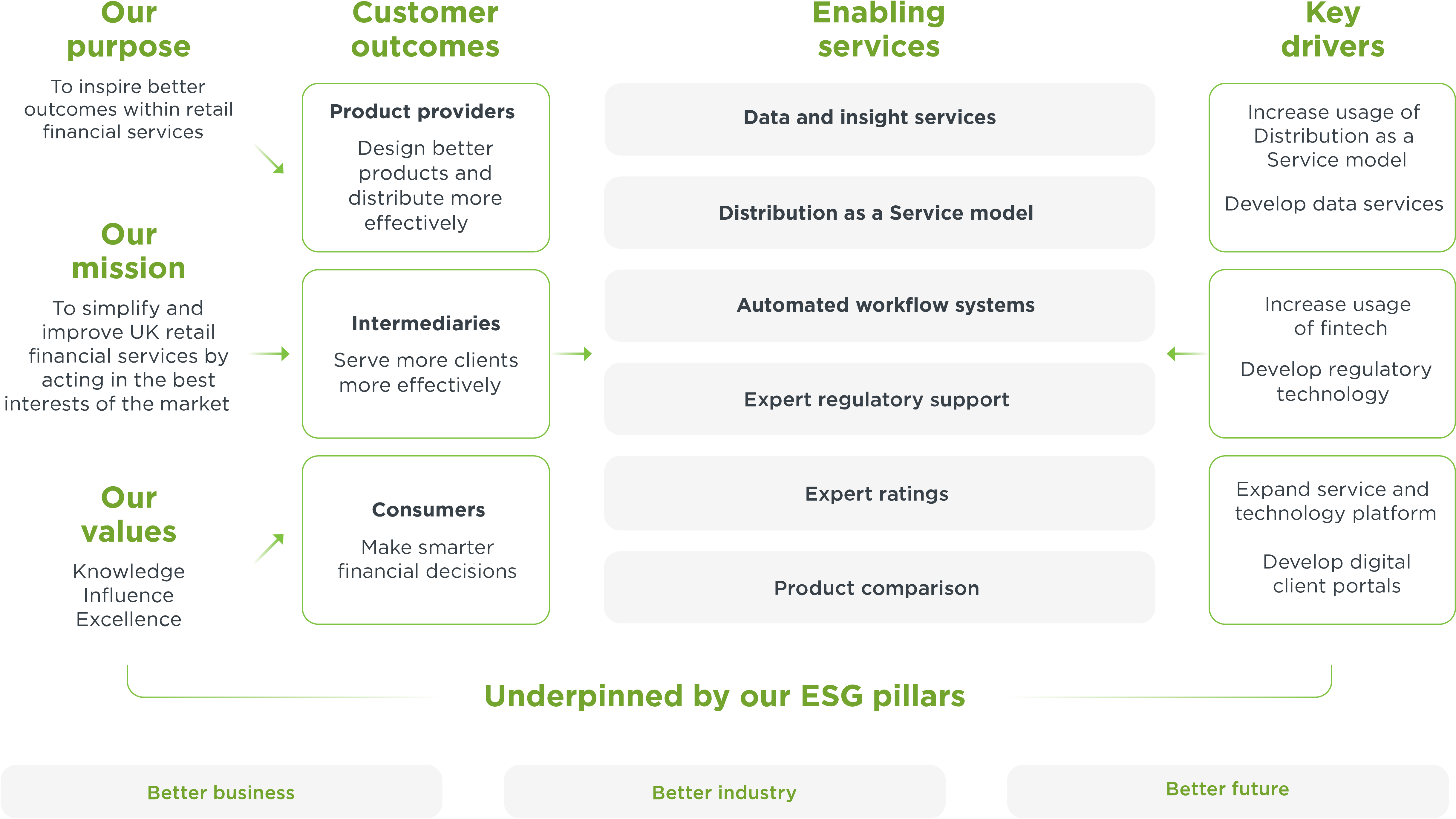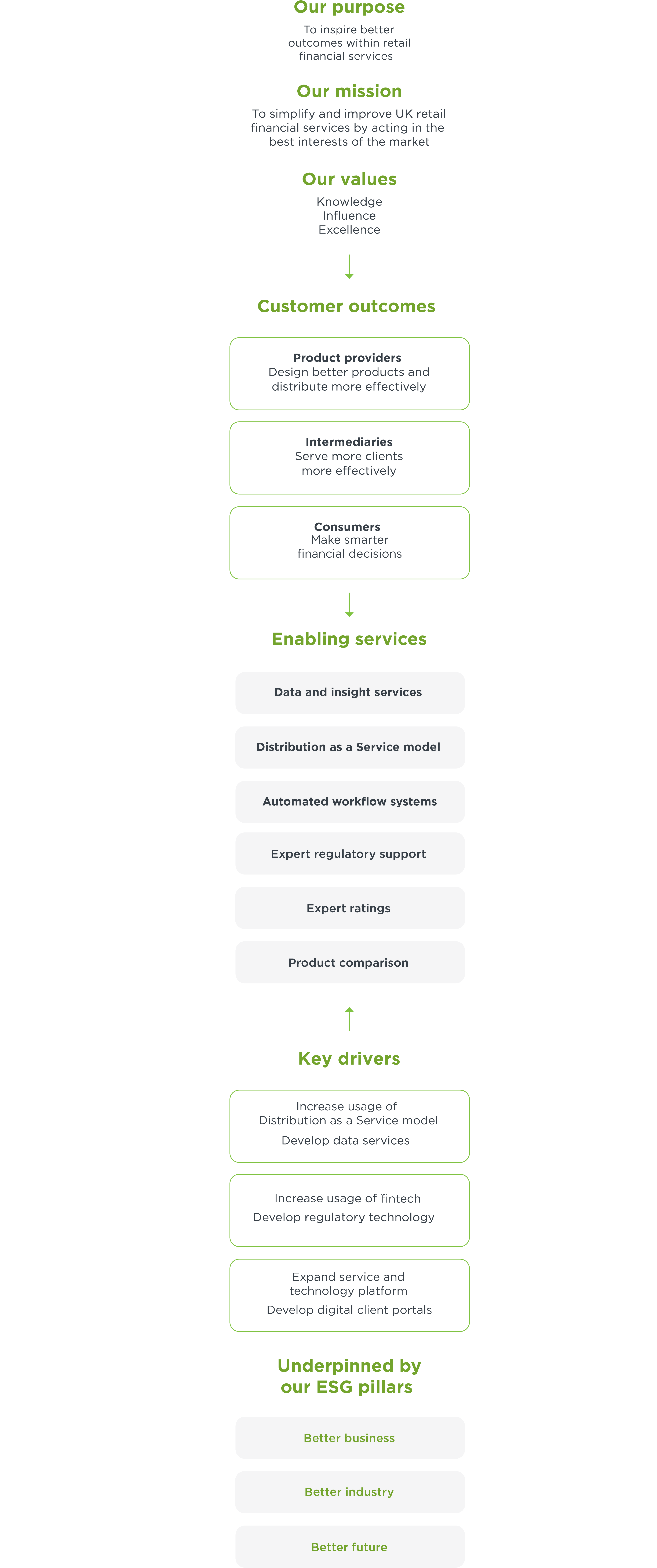 Our VALUES
Our core values underpin our shared traits and approach. It is harnessing our market-leading knowledge, influence and excellence, that we simplify complexity, think bigger and remain future-focussed for our clients.
Knowledge
We take the challenges our customers face and transform them into effective, relevant solutions which benefit everyone.
Influence
We use our intelligence, awareness and experience to connect our clients with their customers and shape a better financial future.
Excellence
We demand more of ourselves than our clients and ensure that our people and technology solutions are always the best available.
Simplify Complexity
We understand the complicated nature of the financial world and help everyone create clear paths towards better outcomes.
Think Bigger
We constantly explore new ideas with the interests of our clients and their customers at heart. Focusing through their lens inspires our thinking.
Future-Focused
We think ahead, rise to new challenges and break down future barriers to success. Our intuition helps clients maximise opportunities.
Our BEHAVIOURS
Our organisational DNA defines the behaviours we share and encourage each day to help us achieve our purpose, whilst ensuring an engaging and inclusive environment for everyone to thrive.
Focussed
We never lose sight of what's important and always look forward with clarity. It's what enables us to continuously grow stronger and achieve our goals whilst remaining focused on everyone we serve.
Passionate
Our passion and energy fuels our drive to work hard, push limits and move fast for our clients. We love nothing more than lacing up our trainers to keep our clients up to speed and ahead of the curve in their markets.
Grounded
We never get carried away with our own triumphs. We owe our success to the market that we serve, so continuing to do so to the best of our ability is how we express our pride.
Positive
We're fired up by challenges and believe in our ability to go beyond expectation. It's a can-do attitude that's helped us deliver an ever-widening range of positive solutions and outcomes to an ever-growing audience of financial providers and advisers.
Inclusive
We know diversity of thought, opinion, skills and experience makes us a richer and more vibrant place to work. When people feel empowered to be the most authentic version of themselves, they become happier, more innovative and more productive. We welcome diversity and celebrate individuality.
Supportive
As natural team players who respect others' goals, we remain equally dedicated to the needs of our advisers, partners, investors and colleagues. We make the most of being at the centre of it all, providing stable foundations for everyone to prosper in the financial future.