Inspiring Better Outcomes
"Our fabulous people are the key to our prosperity and we believe we succeed when they do. To enable us to achieve our long term goals as a business we are passionate about listening to the views of our people and taking action to create a supportive and inclusive working environment where everyone can thrive. Embracing employee feedback is a fundamental part of our culture and we're very proud to have this recognised via our Best Companies achievement"
EMILY BLAIN
HR Director

Ensuring The Wellbeing Of Our Colleagues
We consider the wellbeing of our colleagues crucial to their success and in turn to the success of the business. Employee wellbeing, monitored through monthly pulse surveys, is reported to the ESG and Wellbeing committee at least quarterly allowing us to continuously improve our approach and policies, which include:
Wellbeing support, delivered via:
Monthly calendar of activities spanning mental, physical, financial, career and social wellbeing
Inclusion of a wellbeing section in quarterly performance reviews and introduction of a dedicated wellbeing group on our company communication hub to promote open communication
Access to funded medical cash plan helping our colleagues cover the cost of everyday healthcare and other discounted health support and screening services
Access to a financial wellbeing and money management companion tool
Mental health support, including:
Access to a free, confidential employee assistance programme
Internal qualified Mental Health First Aiders across the business
Mandatory annual training for all employees on positive mental health at work
Health and safety policy, ensuring that we:
Provide and maintain safe and healthy working conditions, equipment and systems of work for all our employees
Provide such information, instruction, training and supervision that may be needed for the purposes of complying with any requirements to eliminate or reduce the effect of the hazards created by our operations
8.0

/10

average employee rated wellbeing score
Building An Inclusive Culture
We believe that a supportive and inclusive culture is key to our success as individuals and an organisation, and we recognise that people from diverse backgrounds and experiences bring valuable contributions and perspectives.
These values are built into our organisational DNA, underpinning our approach and our culture, and we consistently monitor and reinforce them.
Our approach includes:
Ensuring that we recruit, develop and promote people for their aptitude, skills, experience and ability.
Mandatory annual diversity, equality, and unconscious bias training for all our colleagues.
"Inclusive" behaviour built into the performance review, rating and reward process.
Perceived inclusivity being monitored across the business via regular pulse surveys.
An employee induction programme and culture guide, helping new colleagues to feel like a part of the team from day one.
A flexible working promise and dress for the right mindset approach, allowing our people to customise their work routines to balance their work and personal lives and feel comfortable and authentic at work.
Enhanced family policy entitlements, including maternity leave and paternity leave, as well as new modern paid policies such as menopause, fertility leave and pregnancy loss.
9.2

/10

is how our colleagues rate our level of inclusivity and equality
Focus on Engagement and Reward
Our people are our key asset, and we strive to create a collaborative and engaging environment, offering fair reward and recognition for the hard work they contribute to our shared success.
Our approach includes:
82

%

Employee engagement score
Promoting Learning And Development
We have robust support structures and development programmes in place to ensure that our people have access to resources, support and opportunities at all levels. This includes:
Appointment of a Head of Talent and Development to implement structured progression programmes via talent development and succession planning.
Inclusion of a personal growth section within the quarterly performance reviews to embed development and progression planning.
Dedicated sponsorship budget for those who have professional qualification or development needs.
Promotion of apprenticeships, external manager development programmes and funding of professional qualifications aligned to our colleague's progression ambitions.
A career site increasing visibility of internal opportunities across the organisation.
Online learning platform available to all staff, with access to support materials and e-learning.
Operation of a HR business partner model to ensure that all managers have dedicated development support.
50

%

of managerial vacancies were filled internally in 2022
Collaborating with The Industry
Industry collaboration is a key enabler in our focus on diversity and inclusion, ensuring we contribute to building a fairer and more inclusive industry, whilst also implementing best practice in our own approach. Some of our recent collaborations and memberships include:
Inaugural membership of Progress Together, a government backed membership body focused on driving socio-economic diversity at senior level across the UK financial services through sharing best practice with our industry peers.

Inaugural membership and active support of Diversity & Inclusivity Finance Forum, advocating a more balanced and fairer mortgage industry.

Founding membership of the Mortgage Industry Mental Health Charter, providing a framework for member firms to improve mental health support across the sector and within their organisations.
Our contribution towards U.N. Sustainable Development Goals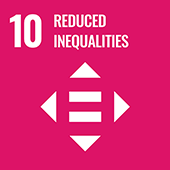 Target 10.2 Promote universal social, economic and political inclusion
We made significant progress in our "thriving workforce" focus area in 2022 with the launch of our flexible staff benefits platform and enhanced policies including new family focused policies to promote wellbeing and engagement, and attract a broader range of talent.

In May, we became inaugural members of Progress Together, a membership body focused on levelling up opportunities across the UK financial services industry through sharing best practice with industry peers. Our membership cements our commitment to promoting diversity in our business and the sector as a whole, evidenced through our employee voted equality perception score of 9.2/10.
You can find "Our Contribution to SDGs" here.